Plan Your Trip
Below are 3 of the most popular boating adventures we recommend to our customers. What attractions excite you? Why not not make up your own route, you are the captain of your own adventure.
Top Places To See
1. English Bay
Minutes from our dock you will find yourself right in the middle of English Bay. A beautiful bay of water surrounded by views of downtown Vancouver, Stanley Park, and the north shore mountains. English Bay is a spot loved by everyone both on and off the water.
2. Stanley Park
While out in English Bay, Vancouver's 1000 acre Stanley Park is hard to miss. Millions of people visit Stanley Park each year. Take advantage of the best view of the park while out on the water.

3. Lions Gate Bridge
Lions Gate Bridge is an amazing suspension bridge. This national Historic Site was opened in 1938 to connect Vancouver and the North Shore. A must see attraction and even more amazing from the water.
4. Coal Harbour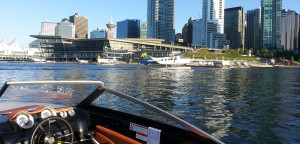 Coal Harbour is located right in Downtown Vancouver and is home to Vancouver's main port. From your boat you will see many other large boats like luxury yachts, shipping tankers, cruise ships and even float planes.
5. Second Narrows Bridge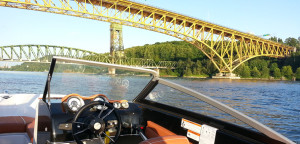 Leaving Coal Harbour and continuing on towards Indian Arm you will pass under 2 bridges. The 2nd bridge is the original Second Narrows Bridge. The first bridge is Iron Workers Memorial Bridge which was built later as a higher bridge was needed for boat traffic to pass. Today it is this bridge that is known as Second Narrows Bridge.
6. McBarge
The Mc Barge, home to Mc Donald's restaurant was built for the 1986 World Expo. Its original home was in False Creek, until 1991 when it was moved to its current location. Sadly today there is no Mc Donald's there for you to stop at but it still remains a popular site to check out.
7. Deep Cove
Right at the bottom of Indian Arm you will find Deep Cove, a popular spot for a lot of our renters. Home to restaurants, coffee shops and the famous donut shop, people love to stop off for a treat and a quick walk.
8. Buntzen Power Station
Buntzen Power Station is a water powered station, operated nowadays by remote control only. On your journey up Indian Arm you will see this old concrete building to your right.
9. Indian Arm
This amazing Fjord is a favourite of our renters. The calm waters and wonderful scenery makes for a great boating adventure. Renters love to just stop and float here to relax, read a book or have a picnic.
10. Granite Waterfalls
When you reach the top of Indian Arm you will come across Granite Waterfalls. To catch the falls in full we recommend just after the snow melt. There is a small dock here if you are looking to make a stop. Many people enjoying swimming here as the waters are so calm.
11. Lighthouse Park
Lighthouse Park is another of Vancouver's wonderful parks, located in West Vancouver on the way to the Howe Sound, It is home to an impressive lighthouse which lights up the Bay every night. This is a great spot to watch the sun go down.
12. Snug Cove
Located on Bowen Island you will find this small seaside village. Another great spot to stop off on your boat trip for some food or a walk on some of its many beaches and parks.
13. Cool Homes
While boating in Vancouver you will notice many amazing homes. Most of these located in the Howe Sound. From the water you have the best view as most home are right on the water and not seen from the road.
14. Seal Colony
Located at Palm Rocks is the seal colony. The seals love to lay on the rocks, but you also will catch them jumping in and out of the water to cool off. It is amazing to find soo many seals gathered in the one area (up to 150 seals). Christie Islet National Bird Reserve is also close by so keep a look out for some bald eagles.
15. Stadiums
Vancouver is home to two major stadiums, BC Place (football) and Rogers Arena (hockey). Take a trip down false creek to catch a great view of these stadiums while enjoying the calm waters of this harbour.